Use our AI Powered chatbot to answer questions using your stores data
Why Do So Many Shopify Orders Get Defined as Direct?
There are several things about the Shopify platform that result in a large number of orders getting attributed to direct traffic in Google Analytics.
Fortunately, while Google Analytics can't tell us anything about these direct orders, Shopify can. With Shopify's data, we can dig deeper and find out what's causing the direct orders in Google Analytics with a report like this: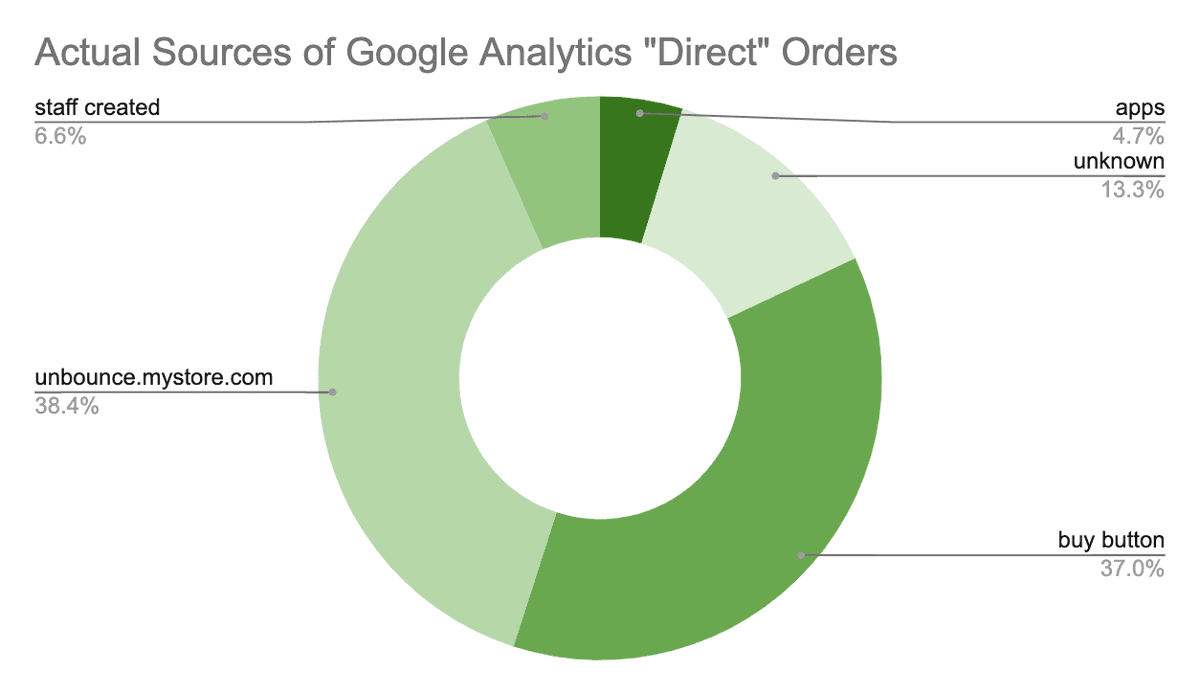 Here are some of the most common causes of direct orders in Shopify and what to do about them.
Common Causes of Direct Orders
Shopify Apps
What happens?
Shopify apps that create alternative checkouts like Global-E, Affirm, or Recharge can break the link between the landing page of a customer's journey and their eventual purchase. When that link breaks, the purchase may be flagged as direct, even if the customer actually came from a marketing campaign.
What to do?
First, use the report to see which apps are causing direct orders. Then reach out to the app's support team. They may have a solution ready.
Next, check if the app itself is listed as the source in Google Analytics instead of direct like Global-E is here:

If that's the case, add the root domain (global-e.com) to the referral exclusion list in Google Analytics.
Finally, before implementing new apps consider how they will impact your analytics.
Landing Pages Hosted Off Shopify
What happens?
If you use another tool like Unbounce to create and host your landing pages and don't add Google Analytics to it, all orders from those landing pages will be attributed to direct.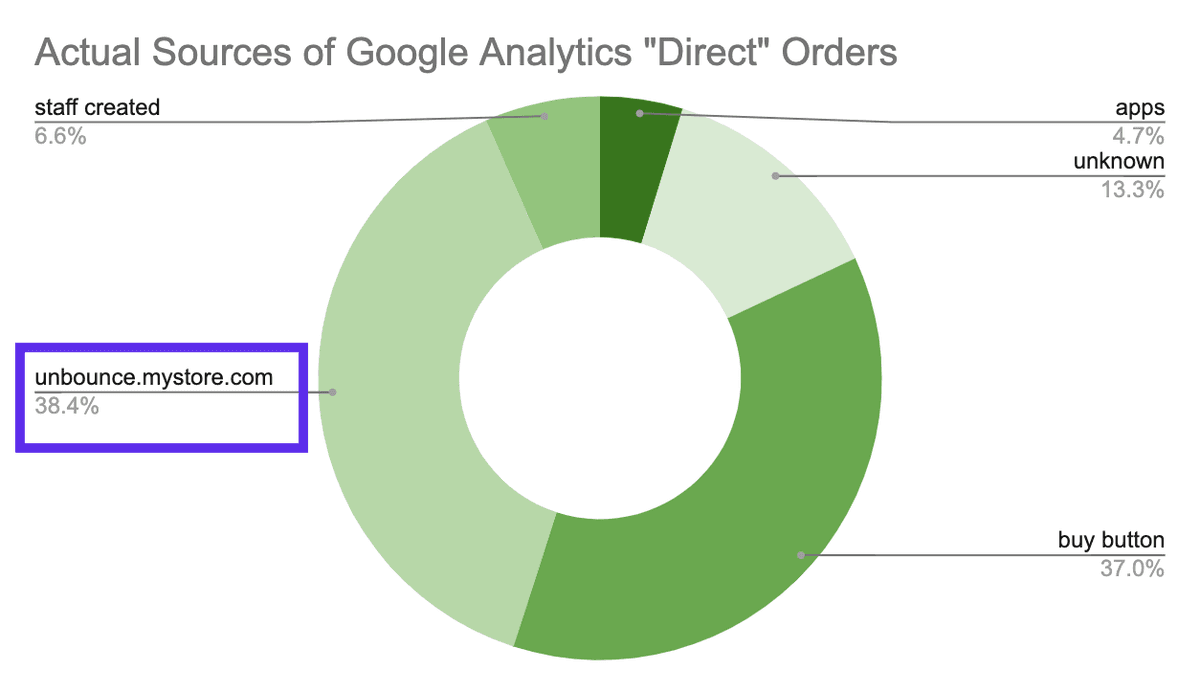 As you can see the report will show which landing pages are missing Google Analytics like unbounce.mysite.com.
What to do?
Add Google Analytics to the landing pages.
Buy Buttons
What happens?
Similarly, if you add Shopify Buy Buttons to a non-Shopify website with a different Google Analytics property, then all orders from those buttons will be direct.
What to do?
Install the same Google Analytics property on all your websites. Do NOT create separate properties for separate subdomains. For Google Analytics 4, use one Data Stream for all sites.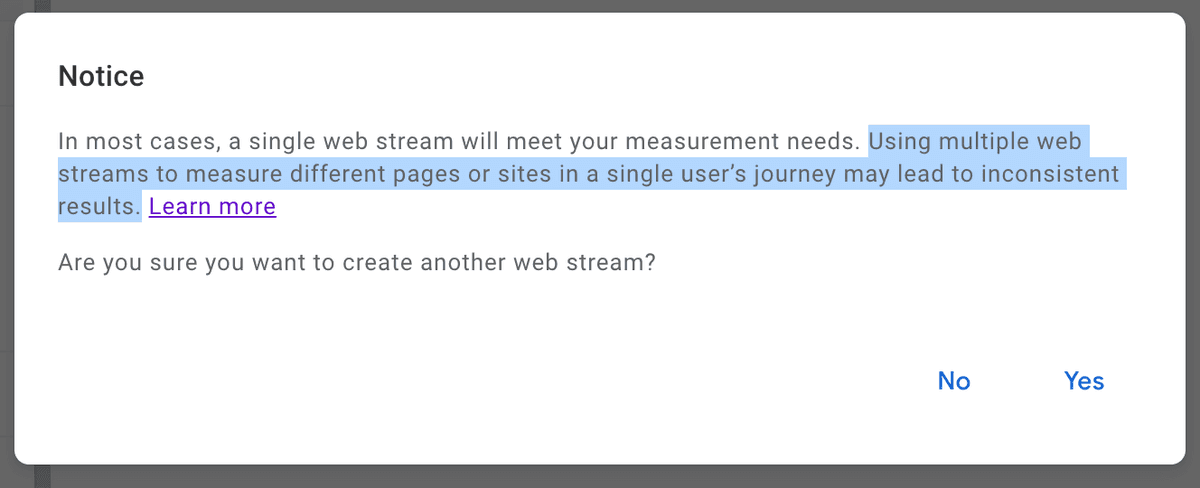 Make sure Google Analytics is installed on every page of your Buy Button's website.
Only set up cross-domain tracking if the root domain changes (myfirstsite.com -> mysecondsite.com), not the sub-domain (first.mysite.com -> second.mysite.com).
Staff Created Orders
What happens?
If you or your staff creates orders and invoices your customers directly using the Shopify admin interface then these staff created orders will either not exist at all in Google Analytics or will be attributed to direct traffic (especially if you use Littledata).
What to do?
Since the order took place offline, there's nothing you can do to make these orders non-direct. But knowing what percentage of your direct orders are actually staff created orders will help you understand alternative custom journeys.
Think about how these customers are reaching you and create alternative (non-purchase) goals in Google Analytics to track them.
For instance, if you take orders over the phone, you can add CallRail's Dynamic Number Insertion and track the sources of traffic for phone calls.
Emails or Texts without UTM Parameters
What happens?
If you don't tag marketing emails or texts with UTM parameters, then Google Analytics will attribute all orders from these messages to direct traffic.
What to do?
Tag all emails with UTM parameters. More generally, develop a UTM tagging strategy and be disciplined about using it.
Alternatively, use an email tool like Klaviyo that adds UTM parameters automatically.
Traditional Marketing without Vanity URLs
What happens?
Similarly, if your traditional marketing (print, billboards, radio, tv, etc) directs your customers to visit your regular URL, then all orders from traditional marketing will be attributed to direct traffic.
What to do?
Instead of sending traditional marketing visitors to your regular URL like myclothingstore.com, send them to a vanity URL like greatjeans.com.
Then place a 301 redirect (it HAS to be a 301 redirect) on the vanity URL to your regular domain with UTM parameters like so:
https://myclosthingstore.com?utm_source=channel-5&utm_medium=tv&utm_campaign=spring-sale&utm_content=flower-dresses
Also, add QR codes to your print media that link to the same UTM tagged URLs like so:
Unknown
What happens?
Some orders in the report will be flagged as unknown. That means there is no app or customer journey associated with the order in Shopify. In Google Analytics, these orders will show a (not set) landing page. The visitors may use ad blockers or there might be other technical issues causing this.
What to do?
While there's nothing we can do to track down the actual source of traffic for these customers, at least knowing which orders are genuinely from an unknown source and which are from direct will help you see how much legitimately direct traffic you may have from word-of-mouth or dark social sources.
Takeaways
Vetting your Shopify apps before you launch them, implementing a UTM tagging strategy, and adding Google Analytics everywhere will help reduce your direct traffic and get better insights into what marketing efforts are working.